Custom Healthcare Stress Balls
Low-priced Customized Healthcare Stress Balls Imprinted with your Logo for your next event. You're here for quality. It's not always easy, So we take it seriously.
.
Custom Personalized Healthcare Stress Balls - 1 Items Found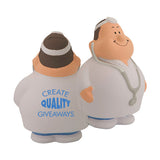 Polyurethane Doctor Bert Squeezies (Q362411)
As low as $ 2.25
(Min. Quantity 150 pcs.)
Get A Quick Quote
Get A Quick Quote
See what our customers think of QualityImprint
---
BUY HEALTCARE STRESS BALLS IMPRINTED WITH YOUR LOGO CUSTOM PERSONALIZED AT QUALITYIMPRINT!
Feeling a bit nervous? Or maybe you just need to release some tension? All you need is a little object called a stress ball to get you feeling calm. It's nice to use when you're working and need a little break. They're also good if you just need a minor distraction. Plus, they're so small you can put them inside your pocket or bag and use them wherever you go.
HOW DO STRESS BALLS WORK?
Custom stress balls are small objects that can fit the palm of your hand. They're designed to be squeezed repeatedly to release tension and be used as a tool for helping out with nerves. For some people, it can also be used to help with their anxiety. Besides the benefits for people's mental health, healthcare stress balls have also been used for people with problems relating to their hands. Squeezing medical stress balls can help relieve pain and stimulate muscles.
MINIMAL INVESTMENT
Quality imprinted stress balls help you divert some of the funds to other important aspects of your business. You can even order medical stress balls in bulk and reach more potential customers. Custom stress balls only require a minimal investment on your part as a promotional item. Unlike the traditional advertising mediums, you need not spend much money on your promotions. It will only cost you a few hundred dollars with stress balls.
INCREASE POTENTIAL CUSTOMERS
Whether for a fundraiser or a corporate event, customized medical stress balls make an excellent giveaway item. Healthcare stress balls are great as a giveaway to offices, security agencies, and other companies with night shift people. With your logo on these products, customers will easily remember your brand. Personalized stress balls make a great giveaway item during trade shows or corporate events. Give away custom stress balls to medical supplies stores, clinics, and hospitals and your brand gets instantly promoted. Whatever your marketing goal is, logoed stress balls can help you achieve them. We can also help you gain a greater return on investment from your promotions.
ADD YOUR LOGO
Healthcare stress balls can be customized according to your preference. They offer enough space for adding your company logo. Thus, you are assured that your brand gets promoted to potential customers wherever you take the custom stress balls. We can help you add your logo or slogan to the personalized stress balls with the logo, ensuring you get publicity mileage for your brand.
QUALITY IS OUR GUARANTEE
At QualityImprint, we take pride in offering quality products. Our stress balls with logos are made from the finest materials. You can count on their durability, so you are assured of using them for a long period of time. We always guarantee your 100% satisfaction when ordering customized stress balls. We also ensure quality in the service we provide. As a testament, we have received a 5-star rating for customer service in TrustPilot. Got some concerns? Let our dedicated account managers assist you.
BOOST YOUR MARKETING CAMPAIGN
Do you have an upcoming trade show or corporate event? Beef up your event with custom stress balls. QualityImprint is the place to be for your promotional items needs. Before completing your order, we will provide free quotes, free samples, and free mock-ups for your approval. Visit our stress balls sections and look for the best item to represent your item. Call our hotline at 888-373-9339 and order promotional stress balls NOW.