Custom Animal Stress Balls
Low-priced Customized Animal Stress Balls Imprinted with your Logo for your next event. You're here for quality. It's not always easy, So we take it seriously.
.
Custom Personalized Animal Stress Balls - 1 Items Found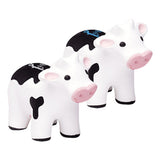 Cow Shaped Squeezies (Q462411)
As low as $ 1.94
(Min. Quantity 150 pcs.)
Get A Quick Quote
Get A Quick Quote
See what our customers think of QualityImprint
---
BUY ANIMAL STRESS BALLS IMPRINTED WITH YOUR LOGO CUSTOM PERSONALIZED AT QUALITYIMPRINT!
Old or young, men or women, everyone gets stressed. It's an inevitable part of everyone's life. In the office, there are deadlines to meet, different colleagues to work with, and a hectic schedule. They have become a part of our life that we must start to embrace them. When stress attacks, we can count on animal-shaped stress relievers to give us some reprieve.
HISTORY OF STRESS RELIEVERS
The concept of a stress ball can be traced back to China several hundreds of years ago. Sources reveal that combat training during the Han Dynasty (26 -220 AD) involved rotating and maneuvering walnuts using one's fingers. This led to improved focus and manual dexterity. However, walnuts weren't too comfortable to roll around, so during the Sung Dynasty (960-1279 AD) people moved to hand exercises using balls made of stone and metal. Now, they come in different shapes and sizes, including cute animal stress balls.
STRESS BALLS AS AN ADVERTISING MEDIUM
Instead of investing thousands of dollars on older advertising forms like billboards, newspaper ads, and flyers, give your business an edge by promoting with animal stress balls. Unlike traditional advertising mediums that are becoming less affordable as time goes by, you do not need to blow your entire ads budget with cute animal stress balls. They're significantly cheaper than other advertisements, leading to big savings that you can use to can grow your business.
MARKETING WITH CUSTOM STRESS RELIEVERS
Another reason to opt for farm animal stress balls over billboards and newspaper ads is the kind of impressions they'll make. The thing with posters and flyers is that they are so easy to disregard since there are so many. On the other hand, people will actually use animal-shaped stress balls. You can give them away to individuals as well as organizations like wellness shops and toy stores. They are also ideal giveaways for marketing campaigns or when promoting a health-related cause.
BENEFITS OF MARKETING WITH STRESS RELIEVERS
What separates animal stress balls from traditional forms of advertisements is that they can actually be used practically. Flyers, posters, cards and other similar forms don't last very long and are so common everywhere which makes cute animal stress balls stand out. This means your logo will actually be seen by a large number of different people nearly every day. Wherever the customer goes with the farm animal stress balls, they mean exposure to your business.
READY FOR YOUR LOGO
Boost your brand recognition with animal-shaped stress balls that represent your brand the best. They can be personalized according to what you. If your business still doesn't have a logo to represent its identity yet, there's no need to fret. Our graphic design team can help craft the perfect logo that shows off your brand identity or build on a current online design you have that will help boost your branding. Just tell us what you want, and we will do the rest.
QUALITY YOU CAN COUNT ON
At QualityImprint, we have a great team of designers to craft a unique and memorable look for your logo and send the message you want to send. Our designers in our studio strive to ensure that the text is legible, your logo looks vibrant and the design is professional. These animal-shaped stress balls will help you to stand out to potential customers and clients and serve as apparel worthy of wearing in support of your brand.
HASSLE FREE ORDERING
Need to spruce up your event or campaign with something unique and fresh? Look no further than our cute animal stress balls that can be customized. It's so easy to place your order. Just choose the farm animal stress ball you like on the website, indicate the number of items you need, and describe the design you want. Give us a ring at 888-377-9339 so you can get more information, get a good quote, an estimate of shipment, and any other questions you have.