Custom Work From Home Gift Set
Low-priced Customized Work From Home Gift Set Imprinted with your Logo for your next event. You're here for quality. It's not always easy, So we take it seriously.
.
Custom Personalized Work From Home Gift Set - 1 Items Found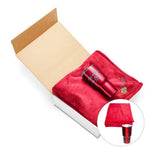 Laid Back Comfort Gift Set (Q465111)
As low as $ 37.10
(Min. Quantity 10 pcs.)
Get A Quick Quote
Get A Quick Quote
See what our customers think of QualityImprint
---
BUY WORK FROM HOME GIFT SET IMPRINTED WITH YOUR LOGO CUSTOM PERSONALIZED AT QUALITYIMPRINT!
Don't let the pandemic stop you from making your employees feel extra special! With a custom work-from-home gift set, they'll feel much more welcomed and motivated to work in your business. Each custom pack comes with a vacuum tumbler and storage bag branded and imprinted with your logo for marketing and Human Resource-related events!
A WARM WELCOME WITH CUSTOM GIFT SETS
Nothing sets off your work experience to a nice start than a custom gift set, personalized and imprinted with your business logo. Whether you're a newbie or a loyal employee, it's always fun to receive freebies from the company as a small token of appreciation for all the hard work. After all, it's the thought that counts!
CUSTOM GIFT SET AS AN ADVERTISING MEDIUM
Besides making your employees feel special, custom work-from-home gift sets are a more affordable alternative to temporary and expensive billboards and print ads. Because the items inside the gift box are daily essentials, it creates a positive association with your brand. Every time recipients use them; they'll instantly be reminded of your business as soon as they see the logo.
MARKETING WITH PERSONALIZED GIFT SETS
Each gift set features a sleek vinyl zip storage bag, stainless steel vacuum tumbler, plus a micro-blanket to ensure that your employees are equipped with all the essentials to work from home. Not to mention, it improves your corporate image and adds to your brand's exposure!
CUSTOMIZE WITH YOUR LOGO
Incorporate your branding and logo by creating custom gift sets for your marketing and Human Resource events with Quality Imprint! You can customize them however you want, whether you want your logo to be smaller and more discreet or big and bold. If you don't have a logo or design in mind yet, don't worry about it. We can help you craft one that will make your brand stand out!
QUALITY YOU CAN COUNT ON
QualityImprint's gift sets are of top-notch quality, so you can rest assured that your recipients will be using them for a very long time. Got any questions or concerns for us? We also have a quality customer service team that aims for customer satisfaction! Feel free to approach them with any query you may have.
FAST AND EASY ORDERING PROCESS
Want to create custom gift sets for your business? Do it the fast and easy way with Quality Imprint! We'll provide free quotations, sample products, and design mock-ups to ensure your vision is followed. Rest assured that your orders will arrive on time and with no delay! Give your marketing campaign an upgrade and create custom work-from-home gift sets. Call our hotline now at 888-377-93-39 to order!