Custom Wine Aerators
Low-priced Customized Wine Aerators Imprinted with your Logo for your next event. You're here for quality. It's not always easy, So we take it seriously.
.
Custom Personalized Wine Aerators - 2 Items Found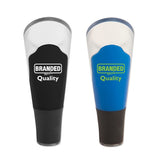 Aerating Wine Pourer (Q499511)
As low as $ 1.75
(Min. Quantity 150 pcs.)
Get A Quick Quote
Get A Quick Quote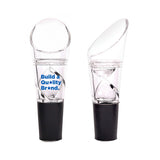 The Vinifera Aerator (Q399511)
As low as $ 2.17
(Min. Quantity 150 pcs.)
Get A Quick Quote
Get A Quick Quote
See what our customers think of QualityImprint
Pamela Fann says "Marvin Suarez is WONDERFUL!!!!!! She has helped me on multiple projects and the quality of items she suggests are spot on. I have not been disappointed with a purchase yet!"
Ron Unz says "They did a great job on a previous order, and once again delivered excellent quality at a reasonable price, and did it very quickly."
Angelina Capriotti-Long says "Ben Alvarez was very helpful & kept us informed as to the progress of our order. He worked with us on getting a proof we were happy with. We recieved our product today and are extremely pleased with it."
---
BUY WINE AERATORS IMPRINTED WITH YOUR LOGO CUSTOM PERSONALIZED AT QUALITYIMPRINT!
Wine connoisseurs are often in search of high-quality wine aerators to better and properly enjoy their wine. Because who doesn't love a good glass of wine, right? Wine aerators are used to provide aeration to wine for it to oxidize which makes it smoother. Another good thing about wine aerators is that they are also highly customizable which makes them perfect promotional items for your business once you imprint them with your brand's logo.
How can I use custom wine aerators for my business?
Custom wine aerators imprinted with your brand's logo can be effective advertising tools for your business. Especially towards wine lovers, wine aerators imprinted with logos will be used by a great number of people which can increase your brand awareness resulting in more potential customers. Additionally, they are also great gift ideas for wine lovers! Moreover, custom wine aerators imprinted with your brand's logo are also inexpensive yet effective advertising tools you can use for your business. Compared to more traditional advertising mediums such as TV, billboards, radio, and newspaper advertisements which can cost you a ton of money, custom wine aerators imprinted with your brand's logo will not break the bank.
How can I customize wine aerators?
Have the best time customizing wine aerators imprinted with your brand's logo with us here at QualityImprint. With a wide variety of products to choose from on our website surely you will find one that will best suit your needs and of your business'. You can even get as creative as you want in designing your wine aerators. Additionally, we offer free design services should you need help in personalizing your custom wine aerators imprinted with logos.
How to order custom wine aerators?
Easily order custom wine aerators with no hassle here at QualityImprint. Simply follow these three (3) quick and easy steps to complete your order process: First, choose a custom wine aerator of your choice on our website. Second, provide us with detailed instructions on how you want your custom wine aerators to look as well as the number of products you are planning to order. We provide you with free design services to help assist you in the design process. Additionally, we also offer you an unlimited number of edits to your design free of charge! Lastly, add the items to your cart and get a quote for your order. We give you the best quality of products at the most affordable prices. So, if you find another local supplier which offers lower prices custom wine aerators than us, let us know and we will match it.
Quality-Guaranteed Custom Wine Aerators
Here at QualityImprint, quality is the name of our game. So, you are rest-assured to be satisfied with our custom wine aerators. Don't believe us? Check here what other customers are saying about our products! If you have any more concerns with the process of ordering, our customer support team would be happy to assist you. Contact us on Mondays - Fridays, 9 am - 6 pm EST at 1-888-377-9339 for inquiries.