Custom V-Neck Shirts
Low-priced Customized V-Neck Shirts Imprinted with your Logo for your next event. You're here for quality. It's not always easy, So we take it seriously.
.
Custom Personalized V-Neck Shirts - 1 Items Found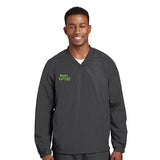 Sport-Tek® V-Neck Raglan Wind Shirt (Q538511)
As low as $ 17.25
(Min. Quantity 24 pcs.)
Get A Quick Quote
Get A Quick Quote
See what our customers think of QualityImprint
---
BUY V NECK SHIRTS IMPRINTED WITH YOUR LOGO CUSTOM PERSONALIZED AT QUALITYIMPRINT!
V-neck shirts are a time-tested way of displaying logos and showing support for meaningful brands. Consider the purchase of personalized v-neck shirts from QualityImprint to showcase your company or cause to the world. We offer a wide spectrum of colors, styles, and clip art to choose from, making it easy to create and find the right v-neck shirts with your logo for your company.
V-NECK SHIRTS AS AN ADVERTISING MEDIUM
Given the costly nature of traditional advertising mediums, customized v-neck shirts offer businesses an affordable alternative. Unlike the traditional mediums of advertising, personalized v-neck shirts designed with screen printing will not break the bank. They only require a minimal investment on your part. For a little less than what you will spend on billboards or newspaper advertisements, you can get your promotions started.
MARKETING WITH PERSONALIZED V-NECK SHIRTS
V-neck shirts with your logo offer a more affordable way to advertise your business than other traditional mediums. Billboards and commercials are expensive yet do not offer long-lasting effects as an advertising medium. With personalized v-neck shirts, people are more likely to remember your company as they use these items often.
BENEFITS OF MARKETING WITH CUSTOMIZED V-NECK SHIRTS
Customized v-neck shirts will be used often, so you can look forward to continuous exposure to your business. It will be used by people whenever they want to stick papers together. Personalized v-neck shirts will serve as a walking advertisement that will carry your logo to be seen by potential customers. People will see your logo and easily remember it whenever they wear it.
ADD YOUR LOGO V-NECK SHIRTS
V-neck shirts can be customized according to your marketing specifications. Personalized v-neck shirts have a wide imprint area that you can capitalize on with your company logo or slogan. Our customizable v-neck shirts come in different styles to choose from. Don't have a logo yet? Our creative team can help beef up your branding efforts.
QUALITY YOU DESERVE
We desire to offer nothing but quality products and excellent service. Our customized v-neck shirts are made from the finest quality materials so that you can look forward to longer use. Quality is also reflected in the kind of customer service we offer. When ordering personalized v-neck shirts from us, you can expect to receive professional customer service. See for yourself why we received a 5-star rating for customer service in TrustPilot. Our ultimate goal is to ensure your 100% satisfaction.
EASY ORDERING PROCESS
Ordering customized v-neck shirts from us is hassle-free. We offer free quotes, samples, and mock-ups for your approval before we finalize. We give importance to quality shirt printing and meeting deadlines, so count on receiving your order on time. Are you looking to give your branding a boost with personalized v-neck shirts? Look no further than QualityImprint. Choose the right v-neck shirt that will best represent your brand. Call us NOW at 888-377-93-39 to ask about the minimum order and give your promotions a huge boost.