Custom Zoom
Low-priced Customized Zoom Imprinted with your Logo for your next event. You're here for quality. It's not always easy, So we take it seriously.
.
Custom Personalized Zoom - 1 Items Found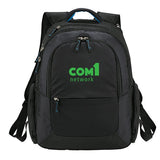 Zoom® DayTripper Backpack (Q825865)
As low as $ 39.72
(Min. Quantity 12 pcs.)
Get A Quick Quote
Get A Quick Quote
See what our customers think of QualityImprint
---
BUY ZOOM IMPRINTED WITH YOUR LOGO CUSTOM PERSONALIZED AT QUALITYIMPRINT!
If you're out and about, a good power bank is a must so you don't have to worry about your gadget's batteries draining—especially your phone! Zoom wireless power banks are great options, especially if you want to keep your bags free of tangled cords. Speaking of bags, a good backpack will also be great to keep all your things with you. You can create custom power banks and backpacks with your company or brand logo for your marketing and corporate needs!
HISTORY OF POWER BANKS AND BACKPACKS
Power banks are a 21st-century creation; the first one was made in 2001 by a Chinese company. However, like many electronics at that time, they were bulky. They also have short battery life. Again, like many electronics, they have evolved to have more capacity while becoming handier and less bulky. Now we have Zoom power banks with 20000 MAH capacity and wireless charging. Backpacks are a much older invention, which can be dated back to 1878 when Henry Merriam made the knapsack, which paved the way for the modern backpack.
CUSTOM ZOOM POWER BANKS BACKPACKS AS AN ADVERTISING MEDIUM
Create custom backpacks and Zoom power banks with your brand logo for marketing and advertising purposes. These items are useful for a big demographic, but they're also great canvases for your branding. This makes custom power banks and backpacks fantastic advertising alternatives to traditional mediums. They can also be used for years, compared to billboards and print ads which are temporary.
MARKETING WITH PERSONALIZED ZOOM POWER BANKS BACKPACKS
Zoom wireless power banks and backpacks appeal to various markets: students, office workers, travelers, remote workers, and more. These items are useful for keeping your things together and charging your gadgets. Since they're reusable, your logo will be seen with every use. People will associate these useful items with your brand. You can give custom power banks and backpacks as giveaways and freebies during any marketing and corporate event.
BENEFITS OF MARKETING WITH CUSTOM ZOOM POWER BANKS BACKPACKS
Quality Imprints offers 20000 MAH Zoom wireless power bank, which you can use to charge your phone without needing a cord that can easily tangle. We also have a backpack specifically designed for day trips, with plenty of compartments and enough space for a 16" laptop and other gadgets. These are great canvases for your logo, which you can place wherever you think is best for your brand. And since custom backpacks and power banks are useful items, recipients will be using them for a long time!
CUSTOMIZE WITH YOUR LOGO
Create custom Zoom power banks and backpacks with your logo front and center for your advertising needs. This will catch people's eyes with each use, making users walking advertisements for your brand! Don't have a logo or design quite yet? Leave it to us! We can help you craft one that suits your needs.
QUALITY YOU CAN COUNT ON
Our Zoom wireless power banks are made with quality to last, and so are our daytripper backpacks. Users will be satisfied with the quality of these useful products. Our printing methods will also ensure that your logo will be highly visible and won't fade away easily. Have questions or concerns? Our top-rated customer service team also aims to provide 100% customer satisfaction!
FAST AND EASY ORDERING PROCESS
When crafting custom power banks and backpacks for your marketing needs, we'll be there every step of the way to make everything more convenient for you. We'll provide free quotations, product samples, and design mock-ups. We'll make sure to realize your vision for the Zoom power banks and backpacks! We also ensure on-time delivery of your items to meet your deadlines and event needs. Give your marketing campaign a classy upgrade with custom power banks and backpacks with QualityImprint. Call our toll-free hotline at 888-373-9339 and place your orders NOW.