Custom LED Lenser
Low-priced Customized LED Lenser Imprinted with your Logo for your next event. You're here for quality. It's not always easy, So we take it seriously.
.
Custom Personalized LED Lenser - 1 Items Found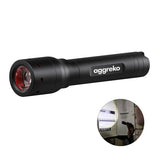 LEDLENSER® P5R Flashlights (Q398211)
As low as $ 113.57
(Min. Quantity 24 pcs.)
Get A Quick Quote
Get A Quick Quote
See what our customers think of QualityImprint
---
BUY LED LENSER IMPRINTED WITH YOUR LOGO CUSTOM PERSONALIZED AT QUALITYIMPRINT!
Flashlights are essential during emergency situations, night shifts, or even just finding things under your couch. Ledlenser flashlights are some of the best in the market, providing optimal performance in any situation.
HISTORY OF LEDLENSER FLASHLIGHTS
Ledlenser is a German company that primarily manufactures various forms of flashlights and headlights. Established in 1993, the brand is a pioneer in manufacturing LED flashlights and now produces many light-emitting products illuminating the dark. Products include industry-grade Ledlenser headlamps used by construction professionals, torches for hiking and other outdoor activities, and flashlights for daily use.
CUSTOM LEDLENSER FLASHLIGHT AS AN ADVERTISING MEDIUM
Ledlenser flashlights are great for branding, as you can easily print your brand logo on its surface through laser engraving. Printing on this everyday object allows for greater brand visibility compared to traditional media such as newspapers and magazines while being more cost-effective.
MARKETING WITH PERSONALIZED LEDLENSER FLASHLIGHTS
LED flashlights are great giveaways for corporate events or even seminars for outdoor safety and emergency preparedness. They are also often used by hikers and campers during their adventures. Ledlenser headlamps are also perfect for various types of workers, especially those who work in the dark during night shifts.
BENEFITS OF MARKETING WITH CUSTOM LEDLENSER FLASHLIGHTS
Both types of products are highly useful to many people, increasing brand visibility should you imprint your logo on them. Ledlenser flashlights are of the highest quality in the market, and users are bound to use these products daily and for years to come, especially during their darkest times.
CUSTOMIZE WITH YOUR LOGO
Ledlenser flashlights have the perfect canvas for your brand logo and slogan even the cylindrical ones have flat sections designated for them. Your logo will be highly visible each time the customer uses the product. If you don't have a logo yet, don't sweat it. We can help you craft the perfect logo for you.
QUALITY YOU CAN COUNT ON
Ledlenser flashlights are the best in the world. They're durable and can illuminate any dark situation. Combine that with QualityImprint's highly vivid and clear printing, and you'll have a lasting product. Got any queries for us? We have a customer service team with a five-star rating in TrustPilot that's more than capable of addressing your needs and providing 100% customer satisfaction.
FAST AND EASY ORDERING PROCESS
Create quality branded Ledlenser flashlights for your company or marketing needs quickly and easily with QualityImprint. We'll guide you through every process step, from giving a free quotation to sample products and design mockups. We also deliver on time and without delay to ensure you get your products when needed. Feel free to browse our website and check out our available tools for your marketing campaigns. QualityImprint will help amplify your branding. Call our toll-free hotline at 888-373-9339 and place your orders NOW.