Custom Forks
Low-priced Customized Forks Imprinted with your Logo for your next event. You're here for quality. It's not always easy, So we take it seriously.
.
Custom Personalized Forks - 1 Items Found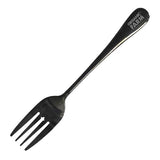 Eclipse Stainless Serving Fork (Q329422)
As low as $ 3.06
(Min. Quantity 75 pcs.)
Get A Quick Quote
Get A Quick Quote
See what our customers think of QualityImprint
---
BUY FORKS IMPRINTED WITH YOUR LOGO CUSTOM PERSONALIZED AT QUALITYIMPRINT!
Whether it's a salad or a sausage, all you need is a fork, and you're good to go. They're handy, easy to use, and incredibly useful. They're great if you want to pack up some pasta, pie, or cake for work or school. Forks are everything you'll need for a nice, quick, yet hearty meal.
History of Forks
Humans have been using tools that are similar to forks as early as the Bronze Age. There are historical depictions of forks in dining settings in ancient Chinese civilizations. Historians also believe that ancient Egyptians used large forks as cooking tools. It wasn't until the 11th century that the fork became a common dining instrument in Italy and the rest of the continent, especially when pasta was a popular food. Now, forks come in various forms, like the spork, which is a combination of spoon and fork.
Marketing With Quality Imprinted Forks
Custom forks are versatile and very portable, which makes them very effective to use in advertisements. It used to be that most businesses relied on traditional advertising mediums like billboards for promoting their business. With bulk forks, many businesses have now found themselves a more budget-friendly advertising option. For a little less than what you will spend on putting your logo on flyers and posters, you can get your marketing campaign going.
Benefits of Using Promotional Forks
Stainless steel forks offer heaps of benefits for different users of all ages. They provide individuals with a sanitary and healthy way to prepare and eat their food. They will be used on a daily basis so you can look forward to continuous exposure. Printed keychains will be used by people of all ages. With your logo on these items, it will boost your brand's exposure. Black forks will be used in offices by people who eat their lunch in the office. They will also be used by customers in restaurants and other food establishments. Even in professional and commercial kitchens, custom forks will also be used in preparing food. Customized stainless steel forks are also perfect giveaways during fundraising events or corporate gatherings. You can also give them as a gift during weddings or anniversaries.
Customize With Your Logo
Bulk forks provide space for adding your logo. You can also choose the right type of model that will best represent your company. Don't have a logo yet? We can help you find the design that will help beef up your marketing campaign.
Get High Quality And Durable Products
It is our desire to always provide you with high quality products. Our stainless steel forks are made from quality materials. They are designed to be used for a long time. At QualityImprint, we strive to give you 100% satisfaction.
Beef Up Your Marketing With Custom Printed Forks
Are you considering custom forks for your next event? QualityImprint is the place to be. Before completing your order, we will provide you with free quotes, samples, and mock-ups so you can see your future item for your approval. Experienced world-class customer service when ordering. Call our hotline at 888-373-9339 for your orders. Check out our custom forks selection and search for the right item that will help boost your branding.