Custom Folding Tables
Low-priced Customized Folding Tables Imprinted with your Logo for your next event. You're here for quality. It's not always easy, So we take it seriously.
.
Custom Personalized Folding Tables - 2 Items Found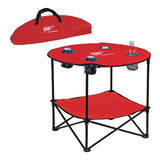 Folding Tables (Q460611)
As low as $ 25.60
(Min. Quantity 48 pcs.)
Get A Quick Quote
Get A Quick Quote
Polyester Folding Tables (Q560611)
As low as $ 25.60
(Min. Quantity 48 pcs.)
Get A Quick Quote
Get A Quick Quote
See what our customers think of QualityImprint
---
BUY FOLDING TABLES IMPRINTED WITH YOUR LOGO CUSTOM PERSONALIZED AT QUALITYIMPRINT!
Treat your family and friends to a fun and unforgettable day outdoors! As you're packing your clothes, walking shoes, and tent, don't forget to bring a handy folding table! You don't need to hassle yourself by placing your plates on a mat. With a foldable outdoor table, you can keep your drinks and meals upright without a worry.
The History of Tables
According to historical records, humans have been using tables as early as ancient Egyptian times. Its early examples looked more similar to altars, with slabs, instead of legs like the tables of today. They were also low enough to sit on. Years and years later, these tables evolved into boards that were placed upright during eating time. It wasn't until the 16th century, during the Tudor era, when tables became bigger and taller. Today, they come in different shapes and sizes, including foldable tables.
Why Use Foldable Tables For Marketing?
Advertising your business does not need to exceed your budget. With the traditional mediums of advertising becoming more expensive than ever, quality imprinted will not break your bank. They require only a minimal investment on your part. For a little less than what you will spend on traditional mediums of advertising, round folding tables can help you get your advertising efforts on its feet.
Marketing With Folding Tables
As an advertising medium, custom foldable outdoor tables are effective. They will be used in camping, picnics, and other outdoor activities. People from all ages will be folding tables using round folding tables to eat on while enjoying their times at the park or the beach. Whenever people use promotional foldable tables while resting, they will see your logo and remember it. They are also great giveaway items during corporate events or trade shows.
Benefits of Using Logo Imprinted Foldable Tables
Folding table with a logo is a budget friendly advertising medium. It can deliver huge savings for your business. The money you will save can be allocated to other aspects of your business. Foldable outdoor tables will be used on a daily basis so your brand is consistently promoted. You can look forward to continuous exposure of your brand.
Customizable with Your Logo
One of the benefits of using foldable tables is that they are customizable. They provide enough imprint space for adding your logo or slogan, if you have any. Personalized folding tables come in different sizes and colors so you can choose the right one that will best represent your brand. Don't have a logo yet? No worries. We can create the perfect design that will boost your branding efforts.
Quality and Durability Guaranteed
Our quality imprinted foldable outdoor tables are made from durable materials. It is designed to be used for a long period of time. Quality is not only assured in the products we offer but also in the services we provide. When ordering logos imprinted round folding tables, you can look forward to getting personalized and professional customer service. Our ultimate goal is to provide you with 100% customer satisfaction. Got any questions? Let our dedicated account managers address your concerns.
Increase The Awareness of Your Brand
Looking for a giveaway item that will surely attract potential customers? Browse through our promotional folding tables and find the perfect advertising medium. At QualityImprint, we offer free quotes, samples, and mock-ups that you need to approve. We guarantee on-time delivery of your order. Call our toll-free hotline at 888-373-9339 and place your order NOW. Take your brand to the next level with our custom foldable tables.