Custom Dishcloths
Low-priced Customized Dishcloths Imprinted with your Logo for your next event. You're here for quality. It's not always easy, So we take it seriously.
.
Custom Personalized Dishcloths - 2 Items Found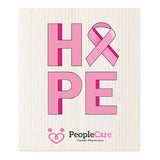 Swed-Ish Dishcloth 15 Rolls (Q420422)
As low as $ 2.74
(Min. Quantity 150 pcs.)
Get A Quick Quote
Get A Quick Quote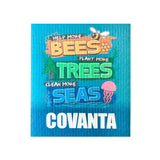 Swed-ish Dishcloth (Q299422)
As low as $ 2.74
(Min. Quantity 150 pcs.)
Get A Quick Quote
Get A Quick Quote
See what our customers think of QualityImprint
---
BUY DISHCLOTHS IMPRINTED WITH YOUR LOGO CUSTOM PERSONALIZED AT QUALITYIMPRINT!
Mess and dirt are unavoidable in the kitchen and dining table. A single swipe of a piece of paper towel usually solves the problem, but they're not exactly the most eco-friendly or most affordable options available. They encourage a lot of waste which is where the dishcloth comes in. They're reusable, efficient, and economical, making them the perfect alternative to paper towels.
HISTORY OF DISHCLOTHS
Dishcloths began being used by people in the 1800s after producers began using cotton sacks to pack products instead of wooden barrels. Eventually, these cotton packaging were used as dish towels. Years later, other versions began to pop up like a dishcloth. It was invented in 1949 by an engineer named Curt Lindquist. He created the items after grinding a sponge, compressing them, and then mixing them together with cotton. Since then, the items are used widely in neighboring countries like Finland, Norway, and Denmark. Its popularity has only begun to spread in the US and beyond.
DISHCLOTHS AS AN ADVERTISING MEDIUM
Why spend a lot of money on billboards and magazine ads when you can allocate your advertising budget on more practical, cheaper, and more useful mediums like Swed-ish dishcloths instead? They will help you save money while also helping clients since they're useful. You can save money without compromising brand exposure.
MARKETING WITH PROMOTIONAL DISHCLOTHS
Colorful dishcloths are suitable for everyone, from individuals and roommates to families and commercial kitchens. Whether it's at restaurants or at home, people will be using the best dishcloths to clean kitchens, dining areas, plates, and other items. Dishcloths are excellent as a giveaway item in hotels, restaurants, or resorts. They are also the perfect giveaway for corporate environmental events or trade shows.
BENEFITS OF MARKETING WITH DISHCLOTHS
Personalized dishcloths will be used consistently so you can expect unrestrained exposure of your brand. As an affordable medium of advertising, quality dishcloths can give you massive savings for your business since they're reusable and durable, compared to paper towels. The money you will save can be allocated to other aspects of your business. With your logo on it, customized towels can increase awareness of your brand.
LOGO FRIENDLY
Dishcloths can be customized depending on what you want. They provide enough space for adding your company logo or slogan. There are also different types of colorful dishcloths in different shades and sizes, so you can choose the right one that will best represent your brand. If you don't have a logo yet, there's no need to worry. We can help you create the perfect design that can help build up your brand. Just tell us what you want and we will do the rest.
AWARD-WINNING QUALITY AND DURABILITY
Our custom dishcloths are made from high quality materials. They are sturdy so you can be assured that they will last longer. Quality is also reflected in the services we provide to our customers. When ordering custom Swedish dishcloths, you can bank on receiving professional customer service. A testament to this is the 5-star rating we received for customer service in TrustPilot. Our ultimate goal is to ensure your 100% satisfaction.
FAST AND EASY ORDERING SYSTEM
Do you have an upcoming event requiring corporate giveaways? At QualityImprint, we offer a wide selection of promotional dishcloths that you can personalize and give away to those who will attend your event. We offer free quotes, samples, and mock-ups that you need to approve. We ensure on-time shipment of your order. So hurry! Get custom imprinted dishcloths and boost the awareness of your brand. Call our toll free hotline at 888-373-9339 and place your orders NOW!