Custom Dickies
Low-priced Customized Dickies Imprinted with your Logo for your next event. You're here for quality. It's not always easy, So we take it seriously.
.
Custom Personalized Dickies - 1 Items Found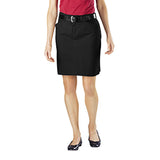 Dickies Ladies Stretch Twill Skirt (Q105011)
As low as $ 32.19
(Min. Quantity 24 pcs.)
Get A Quick Quote
Get A Quick Quote
See what our customers think of QualityImprint
---
BUY DICKIES IMPRINTED WITH YOUR LOGO CUSTOM PERSONALIZED AT QUALITYIMPRINT!
Always look fashion forward with a Dickies skirt. Dress it up or dress it down for any occasion. The Dickies tag assures that the skirts can be a reliable go-to piece for your outfits. QualityImprint's custom Dickies are an essential item in your closet.
HISTORY OF DICKIES
Dickies began as a small bib overall company based in Texas. They were a favorite among workers and the company saw steady growth for several years. In the 1940s, Dickies was entrusted with the responsibility of producing American military uniforms. In the 1950s, Dickies went international, having made waves in Europe and the Middle East. In the following decade, they perfected their blend of polyester and cotton to create their most durable piece of clothing yet—their signature 874 work pant that is still just as iconic today. The brand later became associated with pop culture and were worn outside of the workplace, and just for style; they were cool, hip and a favorite among celebrities. Today, Dickies offers a wide range of products for the most intensive tasks, as well as the most fashionable runways.
CUSTOM DICKIES AS AN ADVERTISING MEDIUM
Clothing is always a worthy advertising medium to consider because of how cost-efficient it can be. They are literally meant to be reused, which offers numerous opportunities to expose your brand to different audiences. A custom Dickies outfit also has the potential to be posted on social media since both the brand and outfit photos tend to gain a lot of traction.
MARKETING WITH CUSTOM DICKIES
Much like the rest of the women's Dickies line, Dickies skirts are quite versatile. They can be styled for professional meetings and the office or for casual hangouts and brunch. They are stylish and comfortable, while being durable and functional. Anyone will appreciate a new addition to their wardrobe, which makes them worth considering for your next corporate giveaway.
BENEFITS OF CUSTOM DICKIES
Dickies is a reputable brand known for their astounding quality. Your customers will love to love their Dickies skirts that they can use whenever and wherever for as long as possible. Their skirts will last any wear and tear, and your brand will be there with them on every trip as a reliable companion. In addition, they are very stretchable and extremely comfortable to wear.
CUSTOMIZE WITH YOUR LOGO
While vintage fashion has made logo-imprinted clothing to be trendy and unique, it is important to consider the custom Dickies' wearability. Part of this is making sure that the skirts are still classy and appropriate, as well as making sure they stay versatile and able to match other articles of clothing. Don't have a logo yet? Just let us know what you have in mind, and we can help you create the perfect logo to express your brand.
QUALITY YOU CAN COUNT ON
Dickies skirts are dynamic, durable, and stylish. They have the Dickies assurance of quality, which will not be damaged with our customization services. Additionally, our customer service is also of high quality, having received a 5-star rating in TrustPilot, in order to ensure 100% customer satisfaction.
NO-STRESS ORDERING PROCESS
Don't stress. Your custom Dickies will be delivered to you right on schedule and just as pretty as you expected. Our free quotations, product samples, and design mock-ups all make sure of this. Want a unique idea for your marketing campaign? QualityImprint has exactly what you need. Check out our custom Dickies skirts to get started. Dial us at 888-373-9339 to talk about some ideas.