Custom Calendar Pads
Low-priced Customized Calendar Pads Imprinted with your Logo for your next event. You're here for quality. It's not always easy, So we take it seriously.
.
Custom Personalized Calendar Pads - 1 Items Found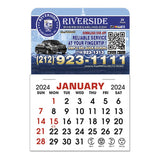 Stick-It! Calendar Pads (Q421711)
As low as $ 0.58
(Min. Quantity 250 pcs.)
Get A Quick Quote
Get A Quick Quote
See what our customers think of QualityImprint
---
BUY CALENDAR PADS WITH YOUR LOGO CUSTOM PERSONALIZED AT QUALITYIMPRINT!
Is it time to up your productivity? Keep your working space organized and conducive for productivity with the help of calendar pads. Having your meetings and appointments on your very own personalized desk pad calendar is no doubt a key to the expansion of your productive capacity. QualityImprint's custom desk pad calendars offer convenience and organization at an extremely affordable price.
HISTORY OF CALENDARS
There have been various systems of timekeeping since the prehistoric age, usually keeping track of the solar year. The Sumerian calendar was the earliest formalized calendar, followed by the Egyptians', which was the one Romans developed into the Julian calendar that was used for over 1,500 years. The Gregorian calendar made further improvements by taking into account religious festivals based on the lunar and solar cycles. While the Gregorian calendar is widely used these days, there are still various forms of calendars in use for religious, regional and social purposes.
CUSTOM BPA-FREE PRODUCTS AS AN ADVERTISING MEDIUM
Custom desk pad calendars are made with the option of including business logos. These calendar pads can not only be only seen as an investment for productivity but as an investment for advertising your own personal business or partnered companies as well. Personalized desk pad calendars can be easily brought along to different work spaces, which increases the possibility of brand exposure depending on the given environment.
MARKETING WITH CUSTOM BPA-FREE PRODUCTS
Calendar pads are immensely convenient for working spaces. They are easy to bring, keep, and use; that is why customers are likely to take advantage of them at giveaways. As the calendar is on display, so is your brand.
BENEFITS OF CALENDAR PADS
These calendar pads are small, but useful. They can be stuck onto desks or any magnetic surface for convenient viewing. Easily keep track of your meetings, dates, and appointments when you see them all in order on a calendar.
CUSTOMIZE WITH YOUR LOGO
Your branding will be front and center along with the calendar. Make your logo and slogan stand out in vivid color and a unique design that does not get lost among the days and the dates. Still unsure about the best design? We can collaborate with you to make the most out of your ideas for your desk pad calendar.
QUALITY YOU CAN COUNT ON
Our calendar pads are convenient and efficient at an inexpensive price. You can keep them anywhere as they last through wear and tear. If you have any questions or concerns about your order, we've also got high-quality customer service. Our 5-star rating from TrustPilot ensures we provide 100% customer satisfaction.
HASSLE-FREE ORDERING
Placing an order has never been this easy. You can leave your personalized desk pad calendars to us. We offer free quotes, samples, and mock-ups for your convenience. Our on-time delivery also guarantees there are no delays to your items. Want to innovate your marketing campaign? QualityImprint's wide selection of customizable products makes it easy and hassle-free.Check out our custom calendar pads to start. Inquire NOW at 888-373-9339 to upgrade your marketing campaign.